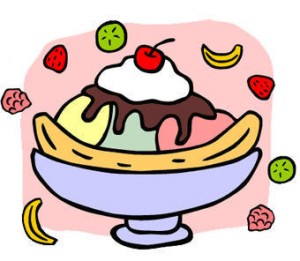 Ice Cream for Breakfast Day has no purpose beyond a celebration of silliness and ice cream. It's like Backwards Day at your local school, except with ice cream.
You can eat a scoop by yourself, or have a party with your closest friends. Or you can invite everyone you know. Surprise your children (or your parents), or look forward to Ice Cream for Breakfast Day for weeks.
What to serve
Ice cream. Buy whatever you like. If you cater to a fancy crowd, go for premium brands. You may even want to make your own ice cream. Toppings are optional but typically are on the menu. In the United States, chocolate sauce and sprinkles are standard. In China, toppings can sometimes include ginger and numbing peppercorns for the adventurous. Some people have something else to eat to chase the sugar rush, but that's up to you.
What else to do
Ice Cream for Breakfast Day parties sometimes include games or contests. Ask everyone to draw an ice cream scene, or to debate which flavor is the best. (We know, but we're not telling.) At one party in Brooklyn, everyone writes a haiku about ice cream, then votes for the best entries.
Other parties are just a chance to eat ice cream, talk and run around, depending on your age. We know of one couple who met at a New York City party on Ice Cream for Breakfast Day. They're now married and have two children. They got along right away because they knew they had something in common: a love of ice cream!
Ice cream shops and organizations throughout the US have begun to use the occasion to raise money for charity. And there's a website which uses the Ice Cream for Breakfast name to raise money for trips to Florida theme parks for very ill children. We don't have any connection to that but we think that's a nice idea. There's a book and a band and short film named Ice Cream for Breakfast Day too, but again, no connection to us.